Welcome to our site!
Dairy production at the farm had ended by the 1980's and has since focussed on raising suckling calves. What could be more natural in our beautiful mountain environment than to let cows raise their own calves?
Our production is linked directly to nature and evolves with the seasons.
Through selling direct from the farm, we are able to offer excellent value for our products.
Through managed grazing, our animals enhance local biodiversity.  In this way, they help us maintain the magnificent countryside of the plateau of Villars-sur-Ollon.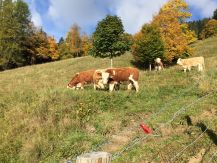 A veal is born !